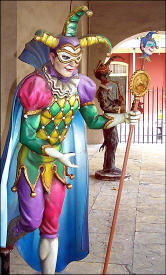 It's time for the Carnival. Hosted this week by C. Enrique Ortiz at his Mobility W e b l o g, this is the tenth in the series of roving expositions known as the Carnival of the Mobilists. Each week a different host blogger showcases the best submitted items on any aspect of mobility. Be sure to visit this week's Carnival.
If you missed any of the previous Carnivals, you can find them at:
Carnival 1 at MobHappy
Carnival 2 at The Mobile Technology Weblog
Carnival 3 at m-trends
Carnival 4 at Open Gardens
Carnival 5 at Mobile Marketing & SPAM
Carnival 6 atThe Pondering Primate
Carnival 7 at Smart Mobs
Carnival 8 at Wap Review
Carnival 9 at Mobile Jones
To learn more about the Carnival, including how you can participate, just click the red Carnival of the Mobilists button in the sidebar.